HOW do I STYLE my CURLY HAIR?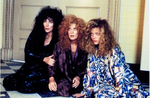 No trickery required.
Those of you blessed with natural curls - we totally feel you! One day you resent your locks for being so stubborn and unruly - and the next, you find the perfect up-do and you make peace again. Dry hair and porosity concerns aside, we attempt to address the age old question facing those with naturally curly locks: how on earth do I style my hair?
1. Top pony with cascading curls
The done/undone look at its best. Put hair in a tight pony tail on top of the crown of the head. Play until curls fall just the way you want them (we love the side fall) and secure the position with a few pins underneath.
2. Ninja top knot
Like the rest of you we love a good messy, undone top knot. This version of the knot is the slightly stricter more sophisticated relative and is surprisingly easy to do. Start by securing the hair in a tight pony at the very center top of the crown. Twist your hair tightly until it just begins to recoil. Then wrap the twist around starting at the base keeping things tight. Neatly tuck in the ends and secure with a few bobby pins. Clean up the sides by using a comb or toothbrush spritzed with hairspray (for the baby hairs in the front) and voila.
3. Twist It Up
Add panache to your curls with some very simple but strategically placed twisting. Place a row of 3 on one side and secure with a tiny elastic or add a full section at the crown (with some beads added in for extra oooomph) for both style and curl control.
4. Snatched back low pony
Slick hair down with a solid hold hair spray as you brush the hair back into a snatched ponytail. Allow the curls in the back to fan out naturally and leave as is or tease with comb for added volume.
5. Statement Barrettes
This was the year of the barrette, and rightly so. It seems we have finally caught on to what Japanese girls have long known- barrettes are not only practical but pretty as well. Use one to add a hint of interest to your hair or a multitude to make a statement- there is no denying that barrettes work very well to discipline otherwise rebellious locks.
6. Goddess Braids
In the words Kylee Heath, one of our fave celeb hair stylists, when in doubt, braid. On those days when you would rather not see, hear or deal with anything remotely curl related and just don't want to expend much effort, braids are your friends. Divide hair into two equal parts and start from the hairline until you have two perfectly braided pieces. Nobody will ever know you had curls to begin with.
7. Pin Head
Behold - the almighty bobby pin! Pins are versatile, easy to use and can be stacked, criss-crossed and otherwise grouped in an infinite number of ways. Use a single to pin to hold down a side-swept fringe, a few here and there to create more definition, or pack on a full set on one side to create a full on metallic hair installation.
- HT