An INTERVIEW with HEIDI NYMARK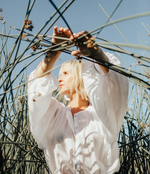 If you just can't imagine how a professional snowboarder could possibly transition into a hair and make-up artist, then you probably haven't thought it through.
The first time we came across Heidi on social media she was likely showcasing one of her many passions- homemade herbal tinctures, medicinal mushroom cultivation, intensive wellness retreats in remote locales, non-toxic hair and beauty products and where she is likely most happiest, perched with snowboard in hand on a powder covered landscape somewhere in Washington state. What links all of these vignettes together is nature and beauty, the profound appreciation of which we think sums up Heidi in a nutshell. 
We recently had the pleasure of chatting with Heidi about her unique journey to hair and makeup, what drew her towards clean beauty and why she thinks mushrooms are the future.
You are a snowboarder turned hair and makeup artist.  Can you tell us a little about this?
Yes, Kind of crazy!!  Growing up in a Scandinavian household made me a lover of the outdoors. My parents - my Dad, a ski jumper and my Mother, a mountaineer and guide, started taking me skiing at the age of three.
I transitioned to ski racing and trained for the US team at the age of 14. I then met a hot snowboarder that became my boyfriend at the age of 16 - he showed me how to snowboard. That was it, I was sold! Two years later I got sponsored and started riding professionally until I was 25.
At this time I needed to make a decision to either train for the Olympics for four years which would have made me 29 or start something new, this being probably one of the hardest times in my life.  Backtracking to when I was snowboarding, I was also in design school and loved the fashion side of things. I would work on photo shoots in between my competitions to make extra money and started designing the clothing line for my sponsor K2.  I watched makeup artists on shoots and loved the idea! Why couldn't I make those models get that glow and enhance their natural beauty? 
So, I made the switch! I worked and trained under Laura Mercier for a few years and trained under a hair mentor on the styling team at Bumble and Bumble.  After knocking on agents' doors and building my portfolio I finally got signed in LA. Now I am represented by the Art Department in LA I am still learning to push myself. I am currently going back to school for herbalism and mycology.
Beauty comes from the inside and out !!! 
You are a vocal proponent of clean and green beauty.  Has this always been the case?
This is a great question! I have always been a lover of health and natural remedies. In the beginning of my career I did not use clean beauty because there really was no one doing it and the products that were clean did not perform well enough for the work I was doing.
After taking herbalist classes I was shocked to know what we were putting on our skin. I started transitioning as much as I could to clean beauty. Now there are amazing brands making beautiful products that perform perfectly for us.  
I alway try my best to have all clean beauty in my professional kit though there are some cases that I have to use other brands because of the color. Remember at the end of the day it is all about balance. 
Medicinal mushrooms are often a favorite topic of yours on social media.  Can you tell us why you love them and how you incorporate them into your lifestyle? 
Funny you are asking! Yes, I do share about mushrooms quite often in my stories on instagram. I have always had a love for mushrooms, but in the last couple of years after I took some classes in Herbalism and went to go see Paul Stamets speak - it blew my mind! 
Mushrooms help with so many things and I feel it is our future in so many ways:  health, environment, packaging, and fashion. The list is endless.
As for the Magic Mushroom I started micro-dosing four years ago on Paul Stamets protocol. It has helped me with my stress, focus and makes me think outside of the box. This has been such a game changer that I have started to help friends and colleagues with a protocol that will work for them.
Because I am so picky about mushrooms and where to get the medicine, I also started to learn how to grow mushrooms. I have taken some Mycology courses and have some amazing mentors.
It has for sure become my new favorite hobby.
What is Freya Friday?
Freya Friday is a day on instagram where I love to connect with nature and explore inner and outer beauty. I share tips about holistic wellness, alternative non-invasive treatments, my favorite organic beauty products, plus tools to infuse calm and keep you in tune with your body on all levels. 
Now after having done over five Ceremonies I have learned how to surrender and to trust.
Ayahuasca is the grandmother plant. It will always show you what you need.  It can be beautiful but very hard, although I feel you alway come out of the journey learning something. In one of my ceremonies I was able to connect with my Father who passed away a few years ago and in another profound ceremony I asked for a sign that this medicine and work is real. That night I had a vision of butterflies from Peru and the lineage of the Ayahuasca that I drank, as well as a strong feeling of family. The next morning my son sent me a drawing of the exact vision that I saw without speaking to me. This was such an eye opener that there is more out there in this spiritual realm, and so much to learn. 
If you are looking to do Ayahuasca please do your research to find the right Shaman that will help with the prep, work, diet, and integration after the ceremony. 
How has the pandemic affected your work and do you think your industry will ever be the same?
Well I feel that the pandemic gave me a different perspective on my work for sure. That being said, I absolutely love what I do, but now I have had some time to think about my other passions. I have continued to do hair and makeup and choosing work that resonates with me. I am also feeling drawn to the healing side of beauty. I am hoping to share with everyone soon my ideas and a possible new product.
I do think the pandemic has changed our industry and I do not think it will be the same moving forward.
What are some of your favorite hair/makeup/skincare brands currently in your kit? 
Let's start with skincare because if your skin is not on point your makeup will not look good!! I alternate between Khus Khus, Para, Monastery, and H for Love.
For makeup I am currently using Ilia, Kosas, RMS, Athr Beauty, and Saint. I also use Chanel and Charlotte Tilbury.
For hair of course Hair Therapie, Latierra Sagrada hair, R+Co, and Under Luna.
I always try my best to use clean beauty products but remember it is ok to use other products that are not clean beauty. It is all about balance !!!
I would have to say for makeup fresh and glowing skin with an edge and for hair, I love a Kate Moss vibe! Perfectly imperfect and a little rock and roll. 
When it comes to maintaining healthy hair, what are your top three tips?
I feel there are so many factors!
First have a look at your stress level and adrenals. What helps me is Yoga, meditation, and my mineral intake that I add to my water because most of our water is stripped from all of its amazing magic. 
I love giving my hair a hair mask one a week as well as a rice water rinse.
I use clean hair products and try my best not to wash it daily.
FAVORITE THINGS: 
Favorite vacation spot: Costa Rica and Mexico
Favorite snow destination: Mt. Baker !!! 
Favorite snowboard: K2

Favorite mushroom: Lions mane (Hericium Erinaceus) and for microdosing Golden teacher & APE

Favorite time of year: Winter for the snowboarding and spring for the plants and hiking

Favorite beverage: Kombucha or for a cocktail spicy Margarita or sip on a amazing Tequila or Mezcal
Favorite meal: clams or salmon, yummy

City or country: country! Norway

Coffee or tea:  That is a hard one, I love both! Coffee (Pachamama Coffee from a small farm in Costa rica) and for tea I love to mix my own herbs depending on mood.
Find Heidi at www.heidinymark.com and on Instagram @heidinymark